Perfectly Pink Deviled Egg Recipe
Try our Perfectly Pink Deviled Egg recipe! A unique twist on a classic, adding a pop of colour and delicious flavour to your appetiser lineup.
Deviled eggs hold a special place in the world of appetisers. They're a timeless favourite at picnics, parties, and potlucks, cherished for their creamy filling and fantastic taste. But what if we told you that you could give this beloved classic a fun and unexpected twist? Whether it's Halloween, a themed party, or Christmas lunch, our "Perfectly Pink Deviled Egg Recipe" is sure to delight your guests with its unique and captivating appearance.
 Dating back to ancient Rome, devilled eggs have long been a favourite appetiser at gatherings around the globe. Their simplicity and versatility make them a popular choice for everything from casual picnics to formal dinners. But what exactly are deviled eggs? Let's crack open this classic dish and find out!  At its most basic, a deviled egg involves a hard-boiled egg, cut in half, with the yolk removed and mixed with other ingredients to create a tasty filling. This filling is then spooned or piped back into the hollowed-out egg white.
The "Devil" in Devilled Eggs
The term "deviled" dates back to the 18th century and was used to describe food that was cooked with spicy or hot seasonings, giving it a bit of a kick. So, when we talk about deviled eggs, we're typically referring to eggs that have a bit of a zing to them, thanks to the addition of ingredients like mustard, paprika, cayenne pepper, or horseradish.
Creamy and Fluffy 
When it comes to deviled eggs, you want them to be as creamy and fluffy as can be. So, what's the secret to achieving the fluffiest deviled eggs you'll ever have? The answer lies in a simple but effective ingredient: cold butter. This addition not only enhances the flavour profile but also imparts a silky texture to the filling. What's more, the cold butter helps the filling hold its shape beautifully, ensuring that each bite is a delight of creamy goodness. 
Beets a Treat
You might be wondering, why go through the trouble of staining your deviled eggs with beetroots? The answer lies in the captivating hue it imparts. These beautiful beet stains not only add an eye-catching element to your deviled eggs but also introduce a subtle earthy sweetness that plays against the creamy egg filling. It's a simple yet striking way to elevate your classic deviled eggs and make them stand out on any occasion. So, the next time you're looking to "beet" the competition in the kitchen, give this staining technique a try
What did you think?
Craving appetisers? Try our Marinated Olives, a mix of herbs and spice, our Vegan Risotto Balls, or our sweet and savoury Candied Bacon Dates. Each offers unique flavours to delight your taste buds.
As always, if you try this recipe let us know how it goes! Leave a comment, rate it, and don't forget to tag your photo #theculinarycartel on Instagram so we can see what you come up with.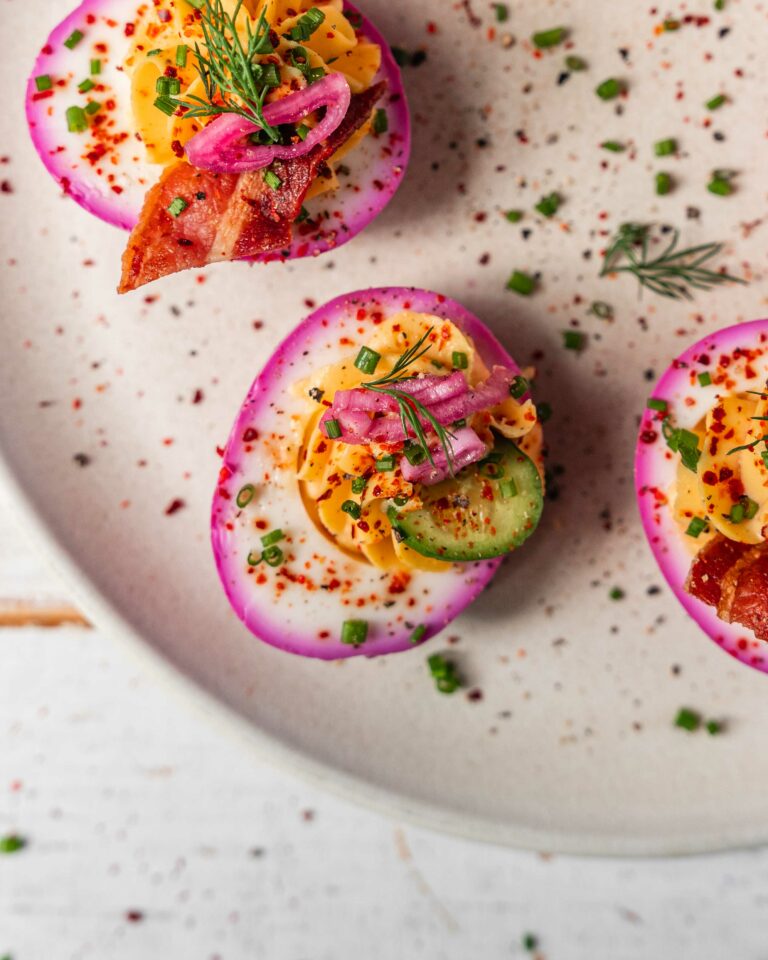 Frequently Asked Questions
Can I use canned beets instead of fresh ones for staining the eggs?
Yes, canned beets can be used as a convenient alternative, but fresh beets typically yield a more vibrant colour.
How long can I store these deviled eggs in the refrigerator?
You can safely store deviled eggs in the refrigerator for up to 2-3 days. This makes devilled eggs an excellent party appetizer!
Can I make these deviled eggs in advance for a party?
Absolutely! You can prepare the beet-stained eggs and the yolk mixture separately a day or two in advance, then assemble them before serving.
Do I have to use bacon bits for garnish, or are there vegetarian alternatives?
You can use chopped chives, paprika, gochugaru, dill, cucumber, radishor even capers as vegetarian alternatives to bacon bits for garnishing your deviled eggs. In this recipe we have done both becon and vegetarian garnishing options. 
Can I make a spicy version of these deviled eggs?
Definitely! You can add a dash of hot sauce or a sprinkle of cayenne pepper to the yolk mixture to give it a spicy kick.
Print
Perfectly Pink Deviled Egg Recipe
---
Author:

Total Time:

<30 Minutes plus chilling

Yield:

18 devilled eggs
Description
Try our Perfectly Pink Deviled Egg Recipe! A unique twist on a classic, adding a pop of colour and delicious flavour to your appetiser lineup.
---
For the Red Beet Pickle:
2 medium beets, peeled and thinly sliced

3 cups water

1 cup apple cider vinegar

1 teaspoon sea salt

1 tsp black peppercorns

2 bay leaves
*OR replace the above with 1 large Jar pickled beets
For the Eggs:
9 extra-large eggs

1-2 tsp lemon juice or dill pickle juice

2 tsp Dijon mustard

2 Tbsp (30g) cold butter, diced

4 tbsp mayo (I used Kewpie as it has a bit of sweetness)
Garnish (use as many or as few as you like):
Shards of crispy bacon

Thinly sliced chives

Fresh dill

Pickled red onion

Capers

Thinly sliced cucumber

Thinly sliced radish
---
Instructions
Make the Beet Pickle by combining all pickle ingredients. Bring to a boil, then set aside to cool in a bowl or container large enough to hold the beet liquid and eggs.
Cover eggs in cold water, and bring to a boil. Stir eggs gently a few times as the water comes to a boil to keep the yolks in the centre, then turn off the heat, cover, and set aside for 11-12 minutes. Stir 2 times in the first 3 minutes.
For Pink Pickled Devilled Eggs (2 hours chilling):
Remove the shell, place eggs into beetroot pickling liquid for 2 hours. Drain, and pat dry with paper towel and set aside
For Halloween "Dinosaur" Webbed Eggs (4 hours chilling):
Crack the shells of the eggs. Leaving the shells on, submerge the eggs completely in the beet liquid. Leave for 4 hours. Remove from the liquid and peel the eggs.
Filling and assembly:
Gently remove the yolks from the whites. In a food processor combine the yolks, lemon juice, Dijon mustard, butter, and mayo in a food processor, then blend until flight and fluffy. Alternatively, mash yolks finely with a fork then beat in the other ingredients. The final result should be smooth, light and fluffy.
* If the butter isn't chilled enough or the mixture becomes too warm, the yolk mixture may look a little split. Dont stress. Pop the mixture into the freezer for 10 minutes to chill, then blend again to emulsify.
Pipe or spoon the mixture into the egg whites and garnish as desired, with a slice of crispy bacon, cucumber radish. Add capers or pickled red onion, then sprinkle with your chilli flake of choice (I love Aleppo pepper in this!), chives, and finish with a sprig of dill. Make it your own and add any toppings you have at hand.
Happy cooking!
Prep Time:

15 Minutes

Chill Time:

2-4 hours

Cook Time:

11-12 Minutes